You are invited to join tonight's:
Eco Somatic readings, conversations and movement centering disability and LGBTIQA+ ecologies of pain and joy with the environment.

Featuring Stephanie Heit, Petra Kuppers, Krishna Washburn, Taja Will, and moira williams.

Where: Online Zoom Meeting

Zoom Registration link: Eco Somatic Registration April 26th

Access Menu:

Access Doula
Participation Guide
AI Captioning + ASL

Please contact moira670@gmail.com for more accessibility information requests and needs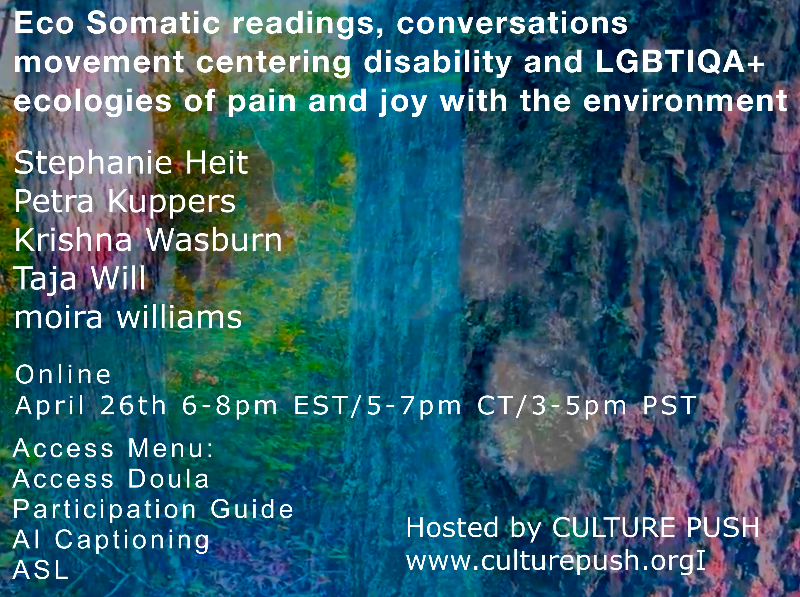 Flyer Image Description: A tree filled image with a close up of two trees and their large textured bark. Between the two trees a hand from the forearm down and palm forward spreads its fingers. It looks like a ghost hand that is filled with the surrounding forest life. The entire background image is heavily saturated with almost neon reds, pinks, yellows, blues, greens and purples. On top of the glowing forest is white text saying: Eco Somatic readings and conversations: disability ecologies of pain and joy with the environment. Stephanie Heit, Petra Kuppers, Krishna Washburn, Taja Will, moira williams. Online April 26th 6-8pm EST/5-7pm CT/3-5pm PST. Access Menu: Access Doula, Participation Guide, AI Captioning.
Facilitators:
Stephanie Heit is a queer disabled poet, dancer, teacher, and co director of Turtle Disco, a somatic writing space on Anishinaabe land in Ypsilanti, Michigan. She is a Zoeglassia Fellow, and the author of PSYCH MURDERS (Wayne State University Press, 2022) and The Color She Gave Gravity (Operating System, 2017). Stephanie is an active member of the Olimpias; an international disability performance collective. She co-directed the Asylum Project (2015-2019); an experimental and community practice investigation into the many meanings of asylum. Stephanie is bipolar, a mad activist, and a shock/psych system survivor. Link to Stephanie's website is HERE.
Petra Kuppers (she/her) is a disability culture activist, a wheelchair dancer, and a community performance artist. Petra grounds herself in disability culture methods. She uses eco somatics, performance, and speculative writing to engage audiences toward more socially just and enjoyable futures. She has been engaged in community dance and disability culture production since the late 80s. She continues to lead workshops internationally, in these forms as well as in disability-culture adapted social somatics. She is the Artistic Director of The Olimpias, an international disability culture collective, and co-creates Turtle Disco, a somatic writing studio, with her wife, poet and dancer Stephanie Heit, from their home in Ypsilanti, Michigan, on Three Fires Confederacy Territory, colonially known as Ypsilanti, Michigan. A link to Petra's website is HERE.
Krishna Christine Washburn is artistic director and instructor for Dark Room Ballet, and co-directed the Telephone Film. She has an M.Ed. from Hunter College, BA from Barnard College, and is certified by the ACSM in biomechanics. She speaks regularly on self-audio description and educating blind/visually impaired dance students. A link to Krishna's website is HERE.
Taja Will is a non-binary, chronically ill, queer, Latinx (Chilean) adoptee. They are a performer, choreographer, somatic therapist, consultant and Healing Justice practitioner based in Mni Sota Makoce, on the ancestral lands of the Dakota and Anishinaabe. Taja's approach integrates improvisation, somatic modalities, text and vocals in contemporary performance. Their aesthetic is one of spontaneity, bold choice making, sonic and kinetic partnership and the ability to move in relationship to risk and intimacy. Will's artistic work explores visceral connections to current socio-cultural realities through a blend of ritual, dense multi-layered worldbuilding and everyday magic. A link to Taja's website is HERE.
moira williams is a disabled Indigenous artist, cross disability cultural activist/organizer and access doula; co-creating and weaving disability justice together with crip celebratory resistance and environmental justice. moira believes in access as art and "access intimacy" as an attitude needed to push beyond the limitations of the Americans with Disabilities Act. Their often co-creative work leads with disability, stemming from the understanding that deep-rooted cultural changes must be made in arts and environmental spaces and practices to become accessible. One part of affecting change is by placing disabled artists and activists in positions of influence to shape culture from within. Another part is acknowledging that entering positions of power is not the end goal. Instead, the end goal is to co-create an active culture where power positions no longer exist. moira's on-going work with water focuses on access intimacy and water intimacy as ways forward to accessible waterways and joy. A link to moira's website is HERE.