Bracelets
Dark Room Ballet is happy to announce the launch of Dark Room Adorned, an Etsy jewelry shop selling bracelets handmade by Krishna Washburn.

All bracelets are made in a wrap style that is adaptable and adjustable for many sizes and uses, and each is created using ethically sourced supplies from the United States, Czech Republic, Austria, and Mexico.

Every bracelet is named after music used in Dark Room Ballet classes for blind and visually impaired adults, many of which are songs requested by students.

Proceeds from every sale at Dark Room Adorned benefit the Telephone Dance and Audio Description Film project, so that editors, composers, ASL interpreters and consultants can be paid.


---
Tote Bags
In partnership with JazeLuCreations, and as a fundraiser for the Telephone Dance and Audio Description Film project, we are happy to offer a limited quantity of tote bags for sale!
These Dark Room Ballet themed bags are medium-sized (dimensions: 16″H x 15″W x 8″D), made of high quality black fabric, with reinforced back and side panels and strong carry handles.
The detail printed on the front of each bag is made of a flock vinyl material that has a soft velvet, fuzzy feel, in Dark Room Ballet orange!
When first available, there were 3 kinds of bags, with 4 of each bag available.
Now, there is only one kind of bag left, with 3 available!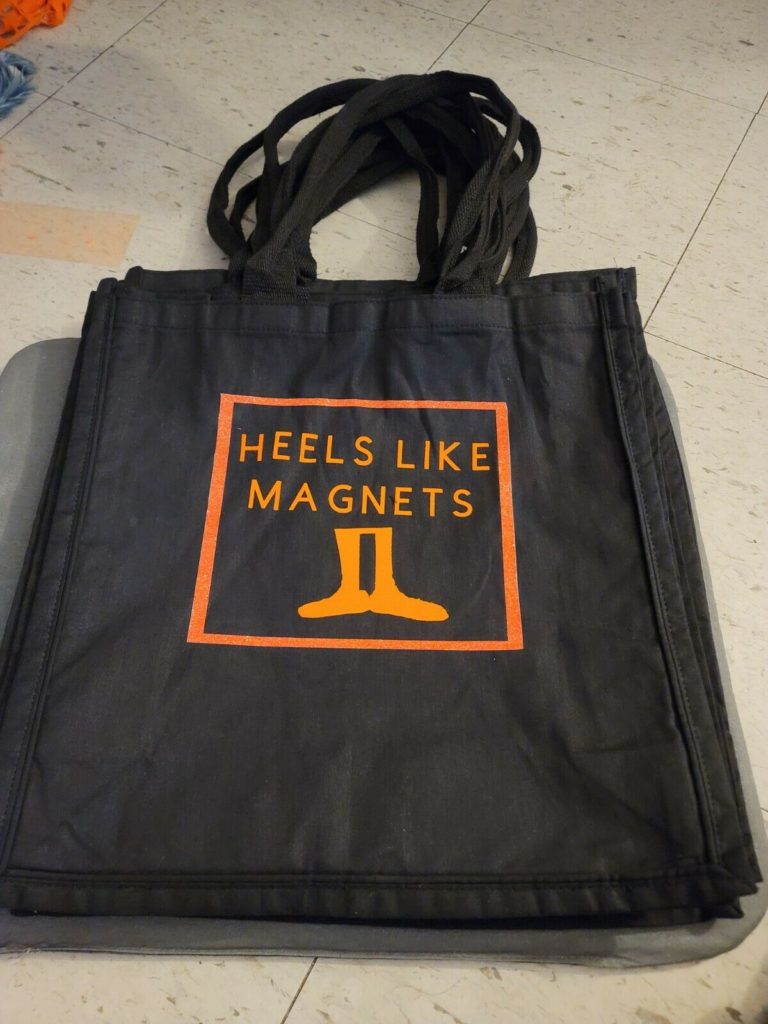 This is a black vinyl tote bag. On the front of the bag, there is an orange square that frames the words in all caps: HEELS LIKE MAGNETS. Right underneath the words, there is an image of two feet with toes pointing outwards, connected at the heels. The square, words, and feet detail are made of an orange, flock vinyl material that has a soft velvet, fuzzy feel.

Buy this bag on eBay: HEELS LIKE MAGNETS Tote Bags