Bracelets
Dark Room Ballet is happy to announce the launch of Dark Room Adorned, an Etsy jewelry shop selling bracelets handmade by Krishna Washburn.

All bracelets are made in a wrap style that is adaptable and adjustable for many sizes and uses, and each is created using ethically sourced supplies from the United States, Czech Republic, Austria, and Mexico.

Every bracelet is named after music used in Dark Room Ballet classes for blind and visually impaired adults, many of which are songs requested by students.

Proceeds from every sale at Dark Room Adorned benefit the Telephone Dance and Audio Description Film project, so that editors, composers, ASL interpreters and consultants can be paid.

The first of its kind, Telephone is a short film bringing awareness to the important art form of audio description (AD) for dance. Audio description allows blind and visually impaired people to be included fully in the joy of artistic expression.

Co-directed by Dark Room Ballet founder Krishna Washburn and choreographer Heather Shaw, Telephone is the first screendance film created specifically with a visually impaired audience in mind, while facilitating an immersive sensory experience for audience members of all sight levels.

Created during the global pandemic, the film features diverse disabled and non-disabled artists from across the globe, demystifying and legitimizing AD, not just as an access tool, but as a beautiful, rich art form in its own right.

Telephone is at the forefront of a completely new approach to audio description. Most of what is considered "best practice" for AD is meant for television or film. A neutral AD voice describes the visuals and does not express emotional content. In television and film, the performers' voices (layered over the AD) inform the audience of the emotional themes. However, in dance, performers rarely speak. Is the neutral AD voice really the best choice for dance? How do those listening to the AD connect with the emotional content of the performance?

The audio describers of Telephone are reshaping the world's perception of AD, adding emotional context and allowing their words to dance in the same way a dancer's body moves. The result is a beautiful merge of poetry and movement, proving that dance is visceral, not merely visual.
---
Tote Bags
In partnership with JazeLuCreations, and as a fundraiser for the Telephone Dance and Audio Description Film project, we are happy to offer a limited quantity of tote bags for sale!
These Dark Room Ballet themed bags are medium-sized (dimensions: 16″H x 15″W x 8″D), made of high quality black fabric, with reinforced back and side panels and strong carry handles.
The detail printed on the front of each bag is made of a flock vinyl material that has a soft velvet, fuzzy feel, in Dark Room Ballet orange!
When first available, there were 3 kinds of bags, with 4 of each bag available.
Now, there is only one kind of bag left, with 3 available!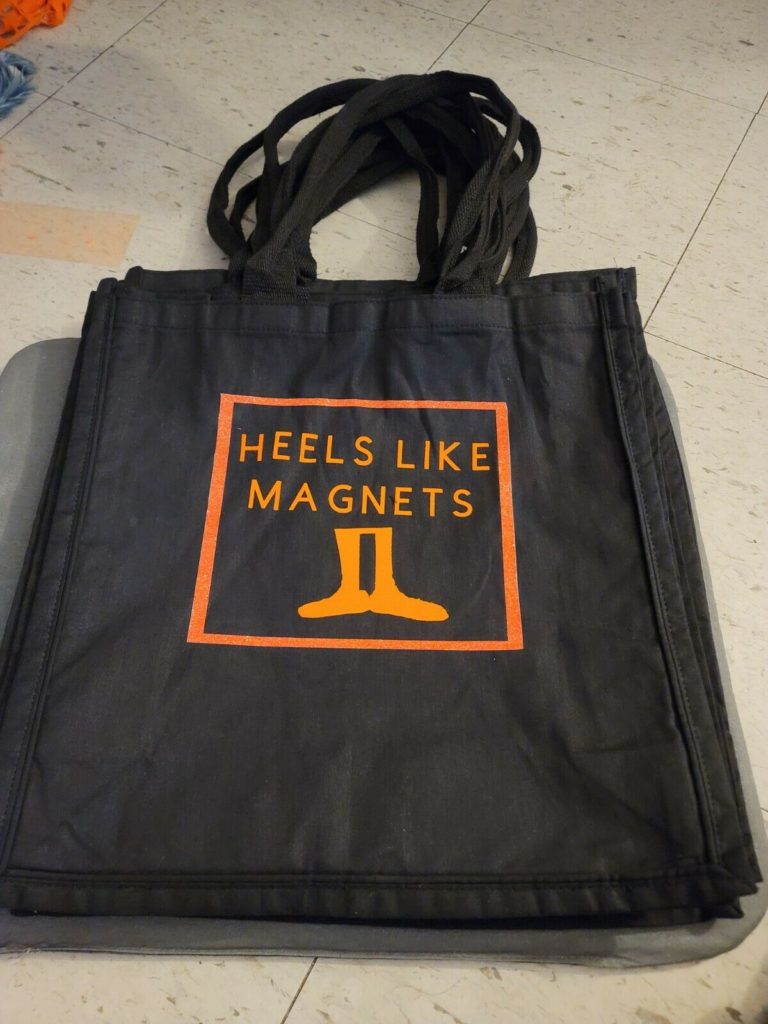 This is a black vinyl tote bag. On the front of the bag, there is an orange square that frames the words in all caps: HEELS LIKE MAGNETS. Right underneath the words, there is an image of two feet with toes pointing outwards, connected at the heels. The square, words, and feet detail are made of an orange, flock vinyl material that has a soft velvet, fuzzy feel.

Buy this bag on eBay: HEELS LIKE MAGNETS Tote Bags