In partnership with JazeLuCreations, and as a fundraiser for the Telephone Dance and Audio Description Film project, we are happy to offer a limited quantity of tote bags for sale!
These Dark Room Ballet themed bags are medium-sized (dimensions: 16″H x 15″W x 8″D), made of high quality black fabric, with reinforced back and side panels and strong carry handles.
The detail printed on the front of each bag is made of a flock vinyl material that has a soft velvet, fuzzy feel, in Dark Room Ballet orange!
Here is a description of each kind of bag; at the time of this posting, there are 3 kinds of bags, with 4 of each bag available.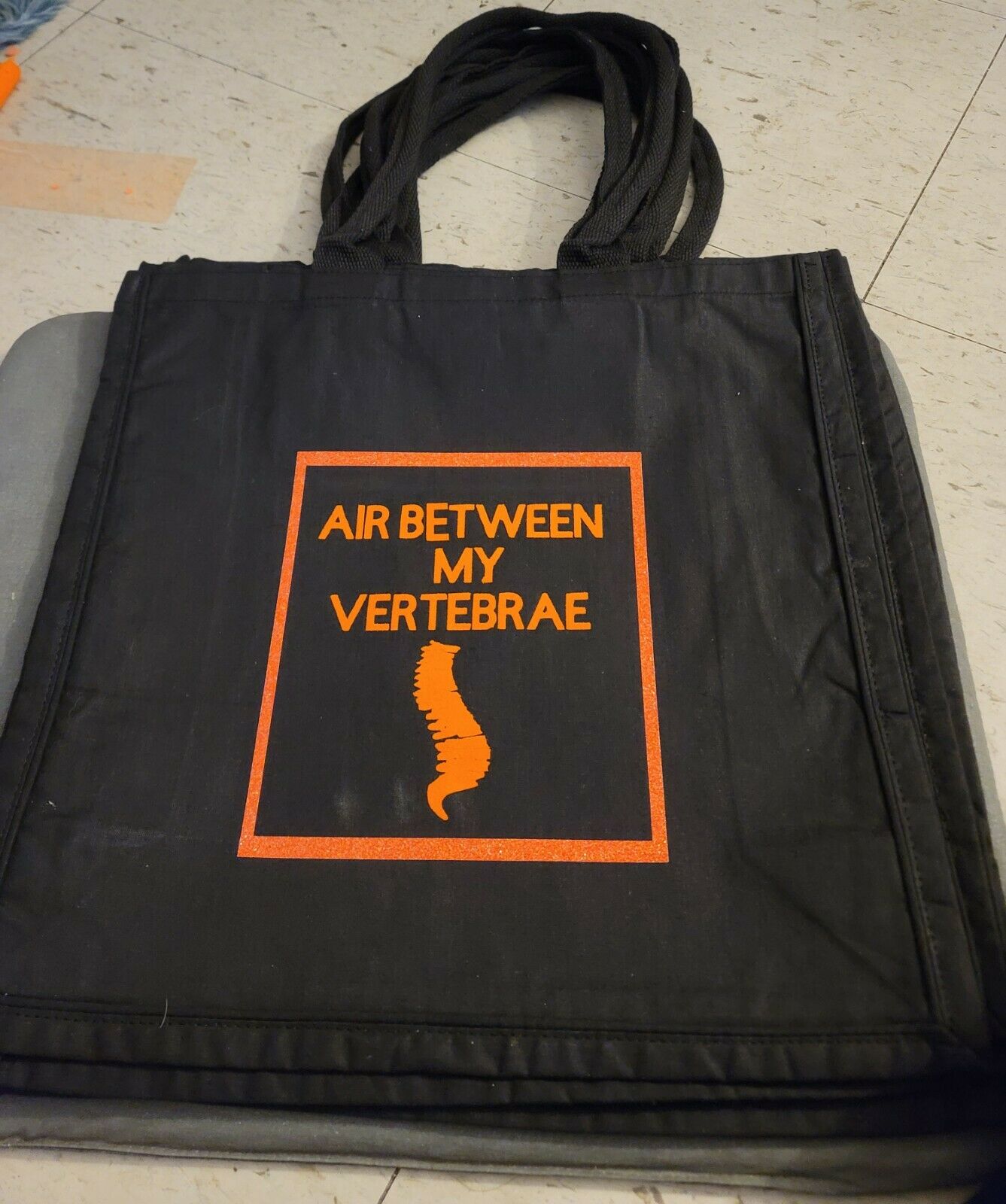 This is a black vinyl tote bag. On the front of the bag, there is an orange square that frames the words in all caps: AIR BETWEEN MY VERTEBRAE. Right underneath the words, there is an image of part of a curving spine. The square, words, and spine detail are made of an orange, flock vinyl material that has a soft velvet, fuzzy feel.

Buy this bag on eBay: AIR BETWEEN MY VERTEBRAE Tote Bags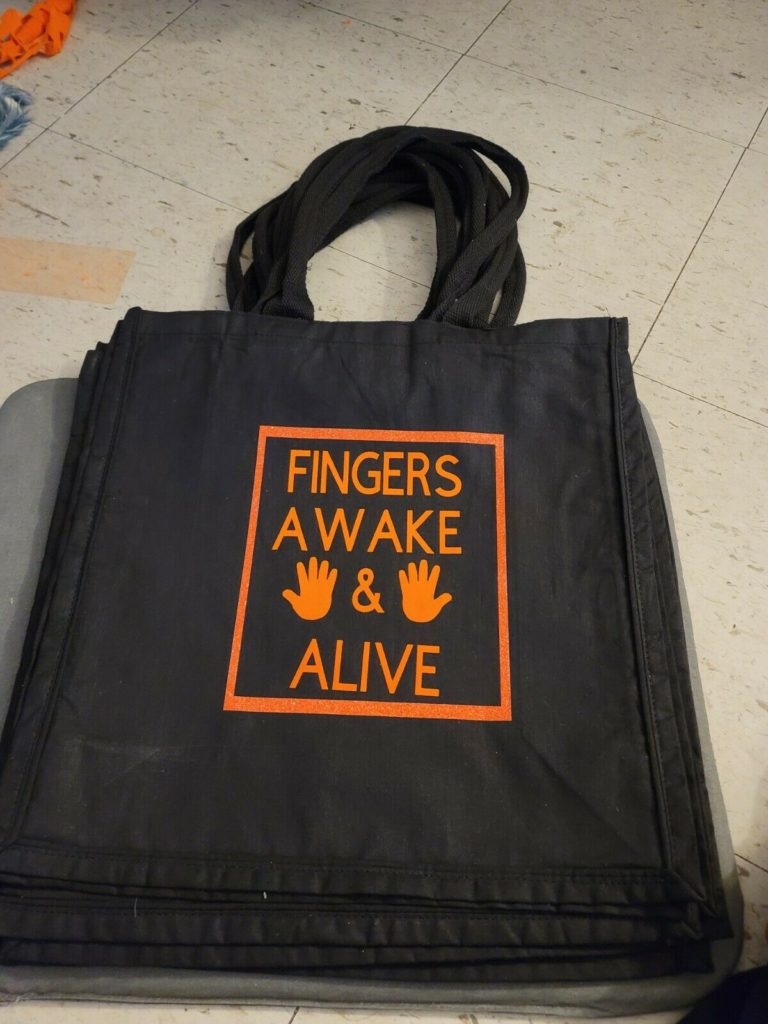 This is a black vinyl tote bag. On the front of the bag, there is an orange square that frames the words in all caps: FINGERS AWAKE & ALIVE. On each side of the ampersand, there is a small hand. The square, words, and hand detail are made of an orange, flock vinyl material that has a soft velvet, fuzzy feel.


Buy this bag on eBay: FINGERS AWAKE AND ALIVE Tote Bag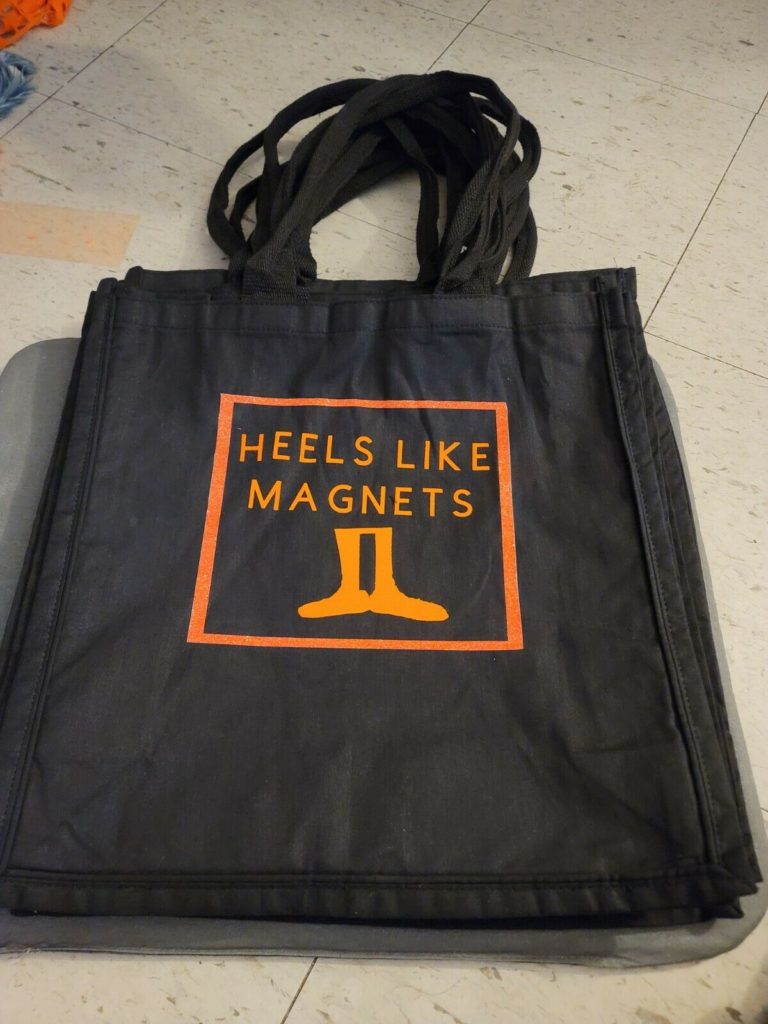 This is a black vinyl tote bag. On the front of the bag, there is an orange square that frames the words in all caps: HEELS LIKE MAGNETS. Right underneath the words, there is an image of two feet with toes pointing outwards, connected at the heels. The square, words, and feet detail are made of an orange, flock vinyl material that has a soft velvet, fuzzy feel.

Buy this bag on eBay: HEELS LIKE MAGNETS Tote Bags